1945 – 2020
The RCSLT is celebrating its 75th anniversary in 2020! We are excited to mark the occasion with a year of celebrating the past, present and future of the speech and language therapy profession.
We will be working on a range of resources and activities throughout 2020, including downloadable content, stories, competitions and social media campaigns. If you're planning a 75th celebration in 2020, please let us know – we'd love to hear about it!
Stay tuned to the RCSLT website and social media feeds to find out more about what's in store.
75 years of speech and language therapy
The RCSLT is celebrating its 75th anniversary this year, Jois Stansfield traces the development of the RCSLT from its founding in 1945 to the present day.
Speech and language therapy in the UK became organised under a single professional body in 1945 as the College of Speech Therapists, now the Royal College of Speech and Language Therapists, which is planning celebrations for its 75th anniversary in 2020. Exploring the history of speech and language therapy gives us the opportunity to understand where we have come from and recognise how this influences our current and future professional lives.
I am currently conducting an oral history project, which has involved interviewing SLTs who qualified between 1945 and 1969. This has been eye-opening in terms of how the profession has changed in numbers (from just over 200 members in 1945 to the most recent figure of 17,422 members, indicated in the RCSLT's 2018-19 Impact Report), but also in terms of the methods, challenges and opportunities reported by the participants. Full analysis is at an early stage, but during the conversations, participants provided all sorts of pictures and artefacts that reflected their experiences of work across the years. No doubt current readers also have memories of a wide range of items that have had professional resonance.
Professional identity
Speech and language therapy thrives on both real and stereotyped professional identity. In my interviews, 'twinset and pearls' were mentioned on numerous occasions, and one participant said that, while studying at college, student SLTs "had to wear blazers with the colours round it, and the proper scarf".
There were many references to the professional and statutory bodies; logos and publications produced by these organisations were seen as defining the profession. Other items included qualification 'parchments', Licentiateship of the College of Speech Therapist (LCST) badges (the original LCST badge had the member's number on the back) and Communicating Quality (1991, 1996 and 2006). Academic life was represented by examination papers, journals, key text books and photographs of fellow students.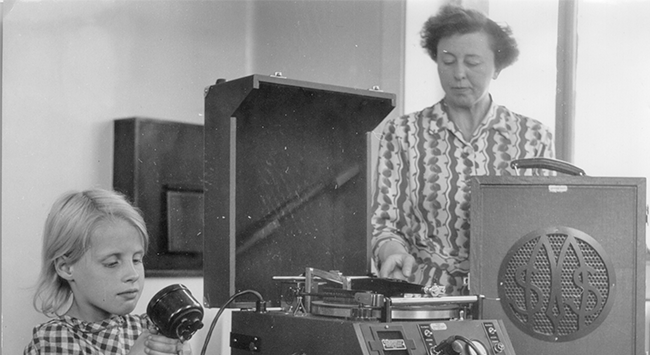 Innovation
In the 1950s there were no British standardised speech and language therapy assessments, and necessity was the mother of invention. One participant mentioned, for example, Joan van Thal's invention of "a piece of apparatus which was a sort of jam jar for detecting nasal escape".
The first standardised test to be published was probably the Coral Richards language test in the late 1960s, followed by the Renfrew Scales and the Reynell tests for children (which are still in use) and the Edinburgh Articulation Test. Assessment of grammar was enhanced by the Language Assessment, Remediation and Screening Procedure (LARSP) in 1978, although many participants struggled with this at first because, as one said of their course in the 1950s, "we did phonetics, but linguistics wasn't part of our curriculum".
Adult assessment continued to use American materials, including the Boston Diagnostic Aphasia Examination, with the 'cookie theft' picture being one element of the more detailed assessment.
People listed a range of therapy essentials. In the words of one participant, who qualified in the early 1950s, she had only "one of these little wicker baskets… and in it, a set of small hand mirrors and a package of straws". Others mentioned "a bunch of keys to entertain kids" (or, more soberingly, "a bunch of keys to a locked hospital ward"), as well as ping pong balls for blowing exercises, popular games, reward stickers and specifically designed therapy tools.
There are still firm favourites that make a regular appearance in many clinics (Pop-up Pirate, anyone?), but technology has changed the way speech and language therapy is delivered, and people mentioned both old and new approaches. Older members of the profession recalled recording devices that were too heavy to carry, and 'eye pointing picture charts'. In stammering work, the electronic metronome and Edinburgh Masker have given way to altered auditory feedback (AAF) phone apps, while tools such as electro-palatography now support articulation therapy, and augmentative and alternative communication has become increasingly sophisticated.
On the move
Many people noted the difficulty they had moving materials, therapists and patients around. Early qualified therapists spoke of a range of transport necessities:
"We used to walk everywhere, because we didn't have a lot of money… we would walk from Buccleugh Place [in Edinburgh] over to the Royal Infirmary, and not always in 'sensible' shoes."
"I couldn't have afforded a car. When it was quite far away, like Kincardine, which was about the furthest point out from Dumfermline, I would go on my bike."
"Half past seven in the morning I would catch a bus into Canterbury to catch another bus out of Canterbury to go to Folkestone or… the Margate area."
"I travelled the length and breadth of Argyll, and I had to work out things like boat and ferry timetables."
Many therapists worked across a wide range of clinics and spoke of their cars being their offices, complete with case notes and therapy materials. One participant reported that a school "hadn't got a room for me to treat anybody in, so I packed two boys into the car, took them to [the next village] for the morning and treated them there. I did check the car insurance first." Another recalled gaining a mobile clinic thanks to a Blue Peter television appeal.
"In the 1950s there were no British standardised speech and language therapy assessments…"
Tracing our roots
As we can see, things have changed! As part of the plans for the 75th anniversary of the RCSLT, we hope to be able to build upon this group of artefacts by collecting photos of items from each year of its existence, as examples of items that have had professional resonance for members.
If there is an object or artefact that says 'speech and language therapy' to you, especially from the earliest years of the RCSLT, be it a piece of equipment, a badge or a publication, then please get in touch with a picture and a brief explanation. Email: j.stansfield@mmu.ac.uk