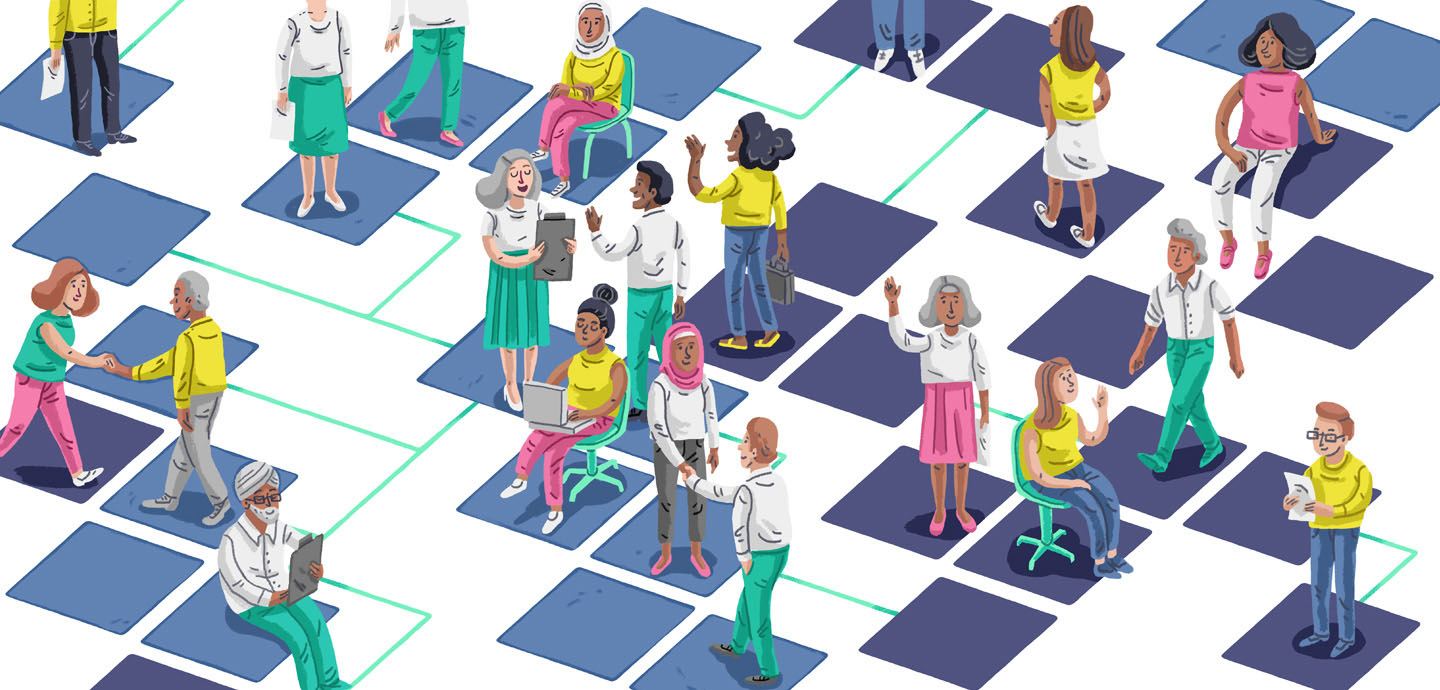 Hello, we're the RCSLT
We're the Royal College of Speech and Language Therapists (RCSLT), the professional body for speech and language therapists in the UK.
Our mission: To enable better lives for people with communication and swallowing needs.
How do we do it? By facilitating and promoting research, producing guidance, holding events and influencing government. We promote better education and training for speech and language therapists, and provide information to our members and the public about speech and language therapy.
Our vision: A society that is inclusive of all with communication and swallowing needs.
Our values: Commitment, innovation and ambition; active accountability; strong and empathetic leadership; active engagement; Respectful, collegiate yet challenging.
Diversity and inclusion: We are committed to equality, inclusion and creating better lives for all. To learn more about our journey to becoming an anti-racist profession, see:
Our history
In 1944, the Association of Speech Therapists and the British Society of Speech Therapists teamed up to create a brand-new professional body, the College of Speech Therapists (CST).
The CST aimed to promote the study of speech therapy in the UK and unite all members of the profession.
King George VI is known for having received speech and language therapy for his stammer. He was so impressed with the work of his speech and language therapist, Lionel Logue, that in 1948 he became the CST's first Royal Patron. Her Majesty Queen Elizabeth, the Queen Mother, took up the role after his death, becoming Patron in 1959.
In the 1990s, when speech therapists added 'language' to their titles and the CST was awarded the right to add 'royal' to its title, we officially became the Royal College of Speech and Language Therapists (RCSLT).
In 2003, HRH The Countess of Wessex took over as the RCSLT's Royal Patron, continuing the historic relationship between speech and language therapy and the royal family.
Read more about the history of the RCSLT and the profession in a series of articles by Jois Stansfield, emeritus professor at Manchester Metropolitan University.
Our Patron and President
Nick Hewer, President
Nick Hewer, former presenter of iconic television programme Countdown, holds the role of RCSLT President. He is passionate about raising awareness of communication and swallowing difficulties, and helps to promote the message of the RCSLT to the general public. His ongoing work with the RCSLT has earned him an honorary degree from Plymouth Marjon University.
Nick is also a published author, and he has previously worked as a public relations consultant and as Lord Sugar's right-hand-man on The Apprentice. He is also patron for several charities, including Fairtrade, Hope and Homes for Children, Pancreatic Cancer Action and Street Child Sierra Leone.
HRH The Duchess of Edinburgh, Patron
Our Royal Patron is Her Royal Highness The Duchess of Edinburgh GCVO, who is following in the footsteps of past generations of the royal family.
Part of her role is attending official events to keep up with the latest in the profession, and celebrating and thanking SLTs for their crucial work at awards ceremonies and celebrations.
HRH The Duchess of Edinburgh is the patron of over 70 charities and organisations, championing an array of causes. These include supporting the agriculture industry, preventing avoidable blindness and putting a stop to gender-based violence.
Meet the Board of Trustees
Dr Sean Pert, chair
In 1995, I qualified as an SLT. Since then, I have worked in the NHS, charity sector and higher education, and was awarded the Sternberg Award for Clinical Innovation on three occasions. My PhD investigated the identification of developmental language disorder (DLD) in bilingual children. As a gay man, I am keen to promote diversity and inclusivity in the profession. I currently work as a senior clinical lecturer at the University of Manchester and as a consultant SLT for the Indigo Gender Service in Greater Manchester, providing voice and communication intervention for trans and gender diverse people.
Twitter: @seanpert
Irma Donaldson, deputy chair
I qualified as an SLT in 1993 from De Montfort University and since then have worked for the NHS. I started working in a rotation post with adults in community hospitals and children in community clinics and special schools. I subsequently worked in a variety of community and acute settings supporting the communication and swallowing needs of babies and children with complex special needs, including autism diagnostics and intervention. I worked in Brent, Lambeth, Haringey and West Essex before starting in Hertfordshire in April 2012. I am currently a specialist services manager (CAMHS and Autism Pathway lead) in Hertfordshire Community NHS Trust. I completed the NHS Leadership Academy's Ready Now Programme in 2019 – a programme for senior staff from a Black, Asian and ethnic minority background. I was a 2021 nominee for the Positive Role Model (Race, Faith and Religion) Award in the National Diversity Awards for my work with NHS Ready to Rise – a collective of senior staff working to influence change in the NHS for staff from a minoritised ethnic background.
Twitter: @IrmaDonaldson19
John Humphrey – lay member (digital)
I have held the position of Group CEO for Kent County Council's local authority trading companies since 2019. In 2008, I moved to Germany to lead the turnaround of Admiralty Deutschland GmbH, a UK Hydrographic Office (UKHO) owned software and data services business. I returned to the UKHO in 2012 as interim commercial director, was appointed chief commercial officer and deputy chief executive in 2014, before becoming chief executive in 2015. Previously, I worked in technology businesses, including in Canada as a vice president for Verint, a data analytics company.
Leasil Burrow – lay member (HR/OD)
I am an associate fellow at the University of Oxford where I direct and teach leadership on various executive programmes. I have a degree in Law from the University of Central Lancashire, an MSc in Major Programmes from the University of Oxford, and have studied behavioural economics and corporate governance at Harvard Business School and neuroscience at Massachusetts Institute of Technology. I am also the founder and executive director of an organisational effectiveness and executive coaching company, specialising in transformational leadership and personal branding.
Country representatives
Helen Robinson – country representative for England (North)
I graduated from Leeds Beckett University in 2003 and began working as a community paediatric therapist in Bradford. I spent the first twelve years of my career there, initially specialising in cleft lip and palate but then moving on to work with complex needs, autism and then AAC. This quickly became my passion and I have spent the past fifteen years working with children and adults who use AAC. I currently job share to role of AAC service lead for the Barnsley Assistive Technology Team, delivering specialised AAC services for Yorkshire and Humberside. I am interested in leadership and service development. I have an ILM Level 5 qualification in coaching and mentoring and I enjoy supporting AHPs with their career development using this. I am developing my career as a clinical academic and in 2020 I completed the National Institute for Health Research Internship programme. I am a committee member of the UK SLT Pride Network and am passionate about supporting SLTs, assistants and students to bring their authentic selves to the workplace.
Twitter: @HelenATSLT
Pauline Downie – country representative for Scotland
I have been a speech and language therapist for 30 years, qualifying in 1992 with a degree from Jordanhill College, Glasgow. My first job was in Carlisle working with children and young people. I then moved to Lanarkshire in 1993 and have been here ever since. I have worked with children and young people, adults with acquired difficulties and adults with learning disabilities. This gave me a good grounding for my current post, which I have held since 2012, as professional lead and head of service for speech and language therapy. I am committed to providing the best possible care for people with communication and swallowing support needs. This includes leading with compassion and a commitment to staff health and wellbeing. I would love to connect more with RCSLT members in Scotland so please get in touch.
Twitter: @paulinedownie
Viki Baker – country representative for England (South)
Hi, I am Viki and I qualified in 1990. My current day job is as a clinical director for learning disability and neurodevelopmental services and the trust lead for speech and language therapy in a large mental health and learning disabilities trust. A number of things make me tick but in particular – human rights, social justice, equalities and inclusion and I am extremely proud of the difference the SLTs make to people's lives; and how as a profession we have a key role to play in these agendas. I always try and model compassionate leadership and am a qualified coach and mentor. My roles at RCSLT have included being on the PPPC, chairing the National Network for Learning Disabilities (LD), and being a member of the Learning Disabilities (LD) National Senate. As a Trustee I am very active within our anti-racism movement. It has been a privilege to serve as a Trustee since 2019 and I am excited to have been reappointed. In other news, I like chilli on everything, singing and blobbing about in the sea.
Rosalind Kyle – country representative for Northern Ireland
I graduated from Queen Margaret College, Edinburgh with a degree in Speech Pathology and Therapy in 1984 and a postgraduate diploma in Learning Disabilities in 1991. Currently, I am the assistant manager for speech and language therapy services at Belfast Health and Social Care Trust for adults with learning disabilities, acute paediatrics, and community child development services. My clinical speciality is in children and adults with learning disabilities, with specific interests in outcome measures, inclusive communication, dysphagia and dementia services. I am also a member of the Northern Ireland RCSLT hub, the adults with learning disabilities (ALD) CEN, the assistant manager networks in NI for children with disability, adults with learning disability and post-grad education, and represent the RCSLT at the Allied Health Professions Federation NI.
Research and general trustees
Marian Brady – trustee for research
I am an experienced speech and language therapist, working in hospital, community and educational settings in Ireland and the UK before leaving the NHS as a senior stroke rehabilitation specialist to complete my PhD at the University of Strathclyde. I joined the Chief Scientist Office-funded, Nursing, Midwifery and Allied Health Professions Research Unit at Glasgow Caledonian University, becoming the founding director of the successful multidisciplinary stroke rehabilitation research programme in 2000. I chair the Collaboration of Aphasia Trialists – a research network of over 270 aphasia researchers across 40 countries, funded by the Tavistock Trust for Aphasia. I am a member of the Cochrane Stroke Group and Aphasiology Editorial Boards and I hold an Honorary Chair at the University of Queensland, Brisbane, Australia. I was awarded the Robin Tavistock Award (2017), and an RCSLT Fellowship (2019) for my contribution to aphasia research and practice.
Twitter: @MarianBrady
Frances Johnstone – general trustee
I qualified as a speech and language therapist in 2001 from City University in London and have worked in a variety of paediatric clinical roles, specialising in supporting children with complex learning and physical/medical needs, with particular interest in AAC and dysphagia. I have had a variety of roles within the NHS to include service co-ordinator and professional manager roles in which I learnt a huge amount and really benefited from the wider multidisciplinary and strategic opportunities afforded to me. I left the NHS in 2018 and set up the multi-disciplinary not-for-profit social enterprise Therapy Links UK C.I.C which aims to provide fair access to therapy for everyone, and continue to enjoy collaborative working opportunities across the NHS, independent and voluntary sectors. This is my second term as a general trustee for the RCSLT and I am very excited by and committed to the journey that RCSLT is currently taking, and look forward to doing all I can to support it.
Angela Shimada – general trustee
I have been a registered speech and language therapist since 2007 after successful completion of MSc Speech Pathology from Newcastle University. Following a broad career working with a wide range of adult speech, language and swallowing difficulties I specialised in complex stroke and dysphagia. I am currently working as the deputy director of allied health professions and operations at Lincolnshire Community Health Services where I hold a number of roles including personalisation lead for the organisation and the Lincolnshire Integrated Care System AHP council chair. I am married with two fabulous children, a dog, a cat and a fish (the fish is indestructible and has survived many house moves and I'm sure should deserve to be in the Guinness Book of Records for longest living fish!).
Twitter: @shimada_angela
Janet Chambers – general trustee
I cover a range of clinical areas in my work including children and adults with a learning disability and autism. I also lead a multidisciplinary team at varying levels. Currently, I am working as an intermediary and mentor in a virtual team, working in criminal and family courts with vulnerable adults, including those with mental health needs.


Dharinee Hansjee – general trustee
I obtained a BSc in speech therapy and audiology in South Africa in 1995. I have spent over 25 years working predominantly with adults in hospital and community settings across the country and abroad. Since 2010, I have taken on the leadership of teams within the NHS and education sectors. I achieved a master's degree in advanced practice (leadership) through King's College London in 2012. Whilst maintaining a clinical career, I delved into academia with visiting lecturing roles and assumed a part-time senior lecturing position, whilst continuing to work and lead within the NHS. I am currently the programme lead/course director for the BSc speech and language therapy course, delivered across University of Greenwich and Christchurch Canterbury. My expertise lies within swallowing in the older adult population, which was acknowledged by taking up the role as RCSLT national advisor for dysphagia (dementia) in 2016. I have collaborated and led on publications, international presentations, national guidance, and research. I was awarded a Fellowship by the RCSLT in 2021 and awarded Senior Fellowship of the Higher Education Academy in April 2022.
Twitter: @DharineeHansjee
Eve Baird – general trustee
I qualified as a speech and language therapist from the University of Sheffield in 1999 and my first speech and language therapy post was as a generalist SLT in Lincolnshire. Over the years I developed my interest in working with individuals with complex communication needs and behaviours that challenge services across a variety of settings including high secure mental health services. I have been in leadership and management roles since 2012 including Rampton SLT service manager, associate director of AHPs for forensic services in Nottinghamshire, and quality improvement and assurance lead in Lincolnshire Partnership NHS Foundation Trust (LPFT). I am currently the associate director of operations for specialist services in LPFT. The services I am responsible for include child and adolescent mental health services (CAMHS), adult eating disorder services, veterans mental health services, and mental health services for adults with intellectual disability and/or autism. In addition to my substantive role, I also work as specialist advisor for the Care Quality Commission and was a member of the NICE/SCIE Guideline Committee for supporting decision-making for people who may lack mental capacity.
Twitter: @EveBairdLPFT
Meet the senior team
Steve Jamieson MSc BSc (Hons) RN, Chief Executive Officer
As CEO, I am accountable to the Board of Trustees for the delivery of the RCSLT strategy, delivery of the annual operational plan and management of the RCSLT. I also provide leadership for the profession and work to build relationships with key stakeholders.
Derek Munn, Director of Policy and Public Affairs
As Director of Policy and Public Affairs I'm responsible for the RCSLT's relationships with the four governments of the UK, politicians and decision-makers, as well as our policy positions and asks. I also look after our partnerships and relationships with other organisations and stakeholders, and the RCSLT's work in Scotland, Wales and Northern Ireland.

Cara McDonagh, Director of Engagement and Communications
As Director of Engagement and Communications, I'm responsible for the RCSLT's strategic communications with its members, stakeholders and the public. We use a range of channels to engage, including events, Bulletin magazine, media, social media, and digital content, including the RCSLT website. I'm also accountable for our branding, advertising and sponsored partnerships.
Judith Broll, Director of Professional Development
I lead the Professional Development team, which provides a range of services including encouraging research and supporting development of the evidence base relating to speech and language therapy, developing professional standards, creating resources, and responding to members' professional development enquiries.
Karen Willis, Director of Finance and Resources
As Director of Finance and Resources, I'm responsible for the finances of the RCSLT, our buildings, IT infrastructure, HR and contracts. I'm also the Company Secretary of RCSLT and its trading subsidiary, making sure that everything we do is in accordance with company law and our Articles of Association.
How we work: our governance and leadership
The Board of Trustees: The Trustees are collectively responsible to the members for developing a five year vision for the organisation, defining goals, setting targets and monitoring performance against those targets. As Trustees they share corporate responsibility for all decisions of the Board including setting the organisation's values and standards, ensuring compliance with its legal obligations and ensuring that its obligations to members are understood and met. They meet formally four times a year. Read the latest on the Board of Trustees.
Finances and Resources Committee (FRC): This committee is responsible for all things relating to finance and resources including investments, contracts, HR, IT infrastructure, data security, health and safety, property, membership records and RCSLT Heritage. They meet four times a year. Meet our FRC committee.
Professional Practice and Policy Committee (PPPC): This committee specialises in policy and public affairs, as well as professional practice and standards. They also make sure that our members and service users are considered when it comes to the RCSLT's strategic aims, objectives and general governance. They meet three times a year. Meet our PPPC committee.
Honours Committee: The Honours Committee is responsible for evaluating and agreeing on the nominations for awards, including RCSLT Fellowships, Honorary Fellowships and the Sternberg Award for Clinical Innovation. They also make recommendations to the Board of Trustees when it comes to supporting a nomination for national honours. See the RCSLT Honours roll call 1945-2019 (PDF)
The Nominations Committee: This committee is responsible for the strategic oversight of the RCSLT's trustee and committee member selection and induction processes. They meet at least once a year but more often when required. Meet our Nominations Committee.
Selection Panel: The Selection Panel is a group of members with an interest in or experience of recruitment. The panel will take part in interviewing prospective Trustee and Committee members. They will then make their recommendations to the Nominations Committee on the most appropriate candidates for the positions available.
Our values
Our values are at the centre of our work and guide all of the RCSLT's actions.
Commitment, innovation and ambition: to deliver on the RCSLT mission, purpose and vision.
Active accountability: to ensure continual innovation, improvement and delivery to members and to the profession.
Strong and empathetic leadership: to actively pursue inclusiveness, diversity and fairness across the profession, within the membership body and within our organisation.
Active engagement: to promote transparency, integrity, open communications and to maintain trust and confidence.
Respectful, collegiate yet challenging: to be curious and open-minded about the views of others and how change can benefit the RCSLT and the profession.
Our core behaviours
We've developed 16 core behaviours which describe the actions and attitudes of our Board members and form part of our work to be more inclusive and diverse.
The behaviours go further than our values – they are the actions which help to make the values a reality.
Our Board members:
Understand and are committed to values of the RCSLT Board.
Understand and are committed to the mission, purpose, vision and objectives of the RCSLT.
Work collaboratively and establish good working relationships.
Are motivated and enthusiastic and able to convey this to others.
Take responsibility for actions agreed.
Are able to actively support the diversity and inclusion agenda in a concrete manner.
Use judgement and common sense in making informed decisions.
Act with transparency and integrity and manages personal conflicts of interest.
Are able to identify risks and threats to the RCSLT and help seek out a consensus on appropriate action.
Question and challenge when necessary to further Board understanding and develop problem solving.
Demonstrate consistent attendance at Board meetings.
Are always prepared for meetings; read Board papers in advance and are prepared to engage and ask questions.
Are able to work effectively with other Board members of varying experience, backgrounds and perspectives.
Contribute actively and facilitates discussion to develop ideas.
Communicate clearly and openly in order to secure understanding.
Undertake learning and development to improve trustee skills and is aware of own strengths and weaknesses.
Our strategic vision
The RCSLT Strategic Vision: 2022-2027 is our roadmap for the next five years. It outlines our main aspirations and areas of strategic focus.
Our aspirations
Inclusive communication for all
A more diverse, inclusive and representative profession, with equitable access to culturally appropriate provision for service users
Explicit recognition of health inequalities, social disadvantage and the profession's role in working to counter these
Championing the value and impact of speech and language therapy
Co-production with service users, their carers and families
Better funding and resources for the profession, with a focus on staff health and wellbeing
Innovation and excellence in research and clinical practice, and a stronger evidence base, including for telehealth and digital inclusion
Properly funded senior and specialist roles, clear career pathways, and strong multidisciplinary team working
Being an outstanding organisation that empowers its members to lead
Our main areas of strategic focus
Equality, diversity and inclusion
Co-production with service user partners
Funding and recovery following the pandemic
Innovation and excellence in research and clinical practice
Developing the speech and language therapy workforce
Championing the value and impact of speech and language therapy
Empowering members to lead the profession
Organisational excellence
Download the Strategic Vision
We have also produced a communication accessible easy read version with the support of RCSLT members and service users.
This accessible format presents our vision in a way that is easy to understand. It defines key words and uses pictures to support the text.
You can download the easy read format in PDF or Word format.
It may be helpful to have support when reading this document.
Trustees Annual Report 2021-2022
The Trustees Annual Report for the year 2021-2022 outlines the RCSLT's activities over the last financial year. It also includes a full independent auditor's report and financial statements, and is available for all RCSLT members to view.
Legal structure
The Charity is known as the Royal College of Speech and Language Therapists (the RCSLT); registered number 273724. It is a registered charity in Scotland, registered number SC041191.
The RCSLT is also a company limited by guarantee, registered number 518344, and therefore has no share capital. In the event of its winding up, the members' liability is limited to £1 per member. The Memorandum and Articles, which were last amended at an EGM on 5 December 2019, govern the RCSLT, supplemented by its Bylaws.
It has a trading arm, known as CSLT Trading Ltd; registered number 0268820.
Our Annual General Meeting (AGM) is an excellent opportunity for our members to find out what is going on behind the scenes at the RCSLT and to have their say on important decisions.
The 2022 AGM took place in October 2022 and covered
approving the new trustees for our most diverse Board yet
welcoming Dr Sean Pert as our new chair and saying thank you and farewell to outgoing chair Mary Heritage
an overview of the work achieved over the past year in policy, finance, communications and learning.
Read the 2022 AGM Draft Minutes (which will be accepted in the 2023 AGM)
Board meetings
Tuesday 23 March 2023
The board of trustees are collectively responsible to the members for the governance of the organisation which includes developing a five-year vision, defining goals, setting targets and monitoring performance against those targets, including delivery of annual operating plans to implement the vision.
They meet on a quarterly basis. Below is a summary of the meeting held on Tuesday 23 March 2023.
Meeting summary
The meeting opened with the Chair welcoming the incoming Chief Executive Officer (CEO) and recognising it was the last board meeting for the outgoing CEO.
The board heard from RCSLT member Aysha on her career journey, passion for research and involvement in the development of some RCSLT guidance.
The board reviewed and approved the minutes of 13 December 2022 meeting and the actions from the previous meeting.
The CEO provided an updated on her recent work including attending:

Being involved in the Urgent and Emergency Care Strategy Expert Reference Group and working with NHS England and the Department of Education to campaign to ensure that the needs of children with speech, language and communication needs are prioritised.
The recent HCPC fees increase – and our work to raise concerns in partnership with AHPF.
An update on the work of the Covid-19 Airborne Transmission Alliance (CATA) which RCSLT is a founder member. The CEO is vice chair and will continue in this role, representing RCSLT after her retirement.

The board took part in a workshop on a range of issues regarding the speech and language therapy workforce, led by the professional development team.
The board received updates on the implementation of the eight focus areas of RCSLT's operating plans from trustee sponsors.
The board received updates on progress on key performance indicators (KPIs), the risk register and financial performance and projections.